Posted by Leeanna Weideman on 16th Mar 2016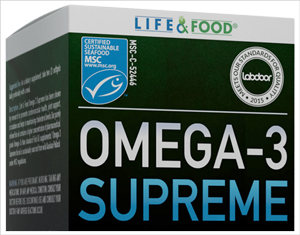 Omega-3 Supreme from Life & Food now has the distinction of carrying the official Labdoor logo – a designation demonstrating the quality and efficiency of our best-selling fish oil supplement. Through Labdoor's rigorous testing from independent laboratories, the results of our product's analysis ranked highly across the board in quality assurance and label accuracy.
What is Labdoor?
Labdoor is an independent mission-driven organization with a focus on consumer knowledge. Their goal is to provide customers with detailed information on nutritional supplements by comparing the quality of products on the market today. Through in-depth testing at FDA-registered analytical laboratories, all supplements tested are given a grade and ranked to determine how well they live up to their nutritional content, purity and label claims.
Omega-3 Supreme Ranking
After undergoing Labdoor's analysis process, we are excited to announce that Omega-3 Supreme has been ranked with a top 10 rating in the quality category of our fish oil supplement.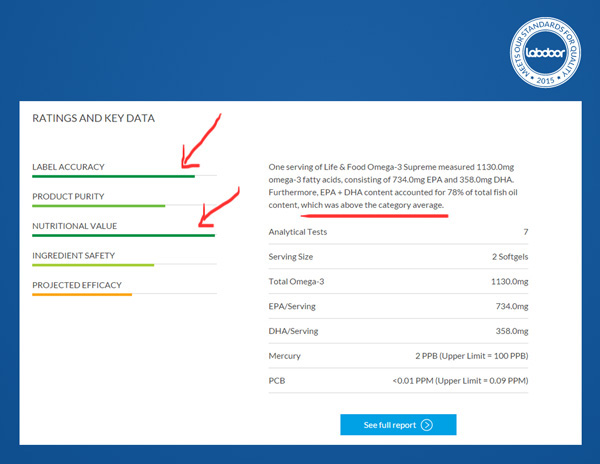 Analysis results showed consistently high marks across all areas of the product's testing, including high nutritional value and high label accuracy. Testing proved that the EPA + DHA content of our supplement accounted for 78% of total fish oil content, which was above the category average! In addition, Omega-3 supreme showed exceptional results when it comes to removing heavy metals and impurities. See Labdoor's report here.
The owner of Life & Food supported these findings by saying, "Although we believe we should be ranked higher given the quality of our product compared to others on this list, we do feel the testing produced accurate results showing the high nutritional contents of our product."
The Omega-3 Supreme Difference
Life & Food's Omega-3 Supreme supplement continues to hold a top-rated spot in the world of nutritional health. Highly ranked on the Amazon Fish Oil marketplace, we carry a 5-star rating with nearly 1,000 reviews from happy customers.
Here at Life & Food customer satisfaction is our biggest priority. As always, we appreciate the continued support of the many consumers who make the daily decision to take charge of their health and support these incredible supplement products!