TMG, 500 mg 60 liquid vegetarian capsules
Life Extension
SKU:
Availability:
In Stock
TMG


500 mg 60 liquid vegetarian capsules
Trimethylglycine (TMG) is also called glycine betaine, but the name trimethylglycine signifies that it has three methyl groups attached to each molecule of glycine. TMG was discovered to be beneficial to heart health back in the 1950s.146-150 TMG operates along a pathway similar to that of vitamin B12. It is a "methyl donor," providing extra methyl groups to hasten the conversion of homocysteine back to methionine.151 When a TMG methyl group is donated to a molecule of homocysteine, it converts to the non-toxic amino acid, methionine.152-153 Research showing TMG's ability to promote healthy levels of homocysteine, alone or in conjunction with other nutrients, confirms its status as an important nutrient for cardiovascular health.154-162 For example, in a recent cross-sectional survey study, participants who consumed >360 mg/d of TMG had, on average, 10% lower concentrations of homocysteine and 19% lower concentrations of C-reactive protein than those participants who consumed <260 mg/d.
USAGE
Take two capsules in the morning with or without food, or as recommended by a healthcare practitioner.

TMG should be taken with co-factors B6, B12, and folic acid.
SUPPLEMENT FACTS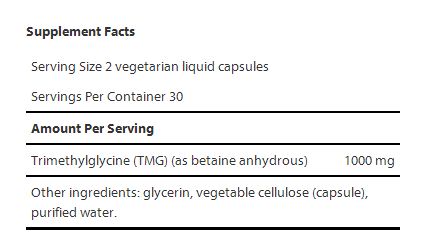 Count:

60 Liquid Vegetarian Capsule

Potency:

1000 mg/Capsule

Form:

Vegetarian Liquid Capsule

NOGMO:

SATISFACTION:

GMP:

MADEINUSA:

FDAREGISTERED: