Super Ubiquinol CoQ10 with Enhanced Mitochondrial Support™ 50 mg 100 softgels
Life Extension
SKU:
Availability:
In Stock
Super Ubiquinol CoQ10 with Enhanced Mitochondrial Support™


50 mg 100 softgels
The mitochondria are the cells' energy powerhouses, and coenzyme Q10 (CoQ10) is an essential component of healthy mitochondrial function.46 CoQ10 is required to convert the energy from fats and sugars into usable cellular energy. Yet, the body's production of CoQ10 declines significantly with advancing age.47 With an ample amount of CoQ10, mitochondria can work most efficiently throughout the entire body — including the most densely populated area, the heart.48 CoQ10 is also a potent antioxidant, helping protect proteins, and DNA of mitochondria from oxidation and supporting mitochondrial function.46
More people are supplementing with CoQ10 than ever before. One reason is increased awareness that "statin" drugs used to lower LDL and cholesterol deplete CoQ10 levels in the blood, and possibly the tissues.49,50
What most doctors don't know, however, is that normal aging may result in more of a reduction in CoQ10 than taking statins. For example, while statin drugs have been shown to reduce plasma CoQ10 by nearly 40%,51 the aging process reduces CoQ10 levels in the heart muscle wall by72%.52 What is particularly frightening is the deficit caused by the dual effects of aging53 and statin drug use that can result in severe depletion of cellular vitality.51
CoQ10 is notoriously difficult to absorb. When it comes to choosing a CoQ10 supplement, the primary factor is how many swallowed milligrams actually make it into your bloodstream. A recent study showed that in seriously ill patients, conventional ubiquinone CoQ10 was hardly detectable in the blood whereas ubiquinol resulted in significant blood level increases and subsequent clinical improvements.
Scientific studies show that ubiquinol absorbs up to 8 times greater than ubiquinone, and higher levels of ubiquinol remain in the blood far longer than ubiquinone. In studies measuring exercise-induced fatigue, ubiquinol was 90% more effective than ubiquinone. In middle-aged mice, ubiquinol was shown to be 40% more effective in slowing measurements of aging compared to ubiquinone.54 Life Extension offers the highly bioavailable ubiquinol form of CoQ10 in a patented delivery system with a superior absorption level.55
This formulation contains an ingredient called PrimaVie® shilajit that research shows doubleslevels of CoQ10 in mitochondria.56
Shilajit has been shown to help restore and sustain cellular energy. The latest studies reveal that when shilajit is combined with CoQ10, cellular energy gains substantially increase.
In a breakthrough preliminary study in mice, the combination of CoQ10 and shilajit produced a56% increase in cellular energy production in the brain — 40% better than CoQ10 alone. In muscle there was a 144% increase, or 27% better than CoQ10 alone.57
Researchers have found that shilajit works to boost CoQ10's beneficial effects by:
Stabilizing CoQ10 in its superior ubiquinol form, thereby prolonging its action at the cellular level.

58,59

Facilitating more efficient delivery of CoQ10 into the mitochondria, resulting in greater cellular energy output.

60-65
Scientific analysis shows that shilajit itself is rich in essential compounds that promote mitochondrial metabolism. Part of shilajit's beneficial effects derive from its ability to help the mitochondria convert fats and sugars into adenosine triphosphate, or ATP, the main source of cellular energy.60-65
Super Ubiquinol CoQ10 with Enhanced Mitochondrial Support™ combines super absorbable ubiquinol CoQ10 with shilajit to generate a powerful synergy that supports more youthful cellular energy production than CoQ10 alone.57,59,60
USAGE
Take one softgel once or twice daily with food, or as recommended by a healthcare practitioner.
SUPPLEMENT FACTS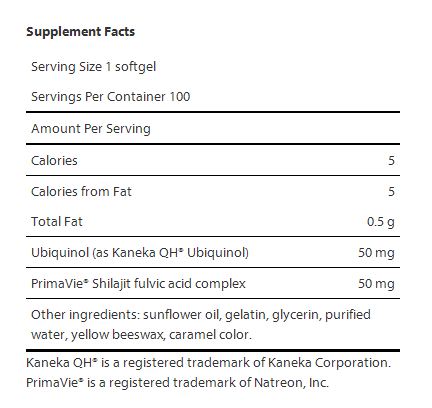 Count:

100 Softgels

Potency:

50 mg/Softgel

Form:

Softgel

NOGMO:

1

GMP:

1

MADEINUSA:

1

FDAREGISTERED:

1
Reviews
I have used this product for many years. It seems to have improved quality over the years and is very easy to swallow. I take it as insurance for heart health, as well as general health, hoping that it is working. I currently take one 50 mg gelcap per day but may want to increase it two 2 gelcaps

I use it daily as recommended.

Excellent, adds energy to system

Good for the heart!

have no problem with this item

Use this product in conjunction with statins.

I have felt stronger and more energized since I started taking this supplement. I experience less body discomfort after prolonged physical activity and/or exercise.